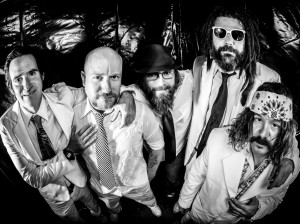 Boston's WHITE DYNOMITE have reissued their raucous, uninhibited self-titled debut through Ripple Music. Today, on the day of its release, you can head over to The Sleeping Shaman to hear it in full.
Listen to White Dynomite's eponymous debut in full AT THIS LOCATION.
Order the album on white vinyl directly through Ripple Music HERE.
Born of boredom and bourbon, WHITE DYNOMITE are considered gentlemen of experience and true Rock City pedigree. Featuring ex-members of ROADSAW, LAMONT and WRECKING CREW, this five man band has a shared love for all things loud, fast and loose. There's more to their story than just the suits.
WHITE DYNOMITE call Boston home but their brand of action requires a map.  Jump into their jalopy for a trip through the streets of NYC with The Ramones and The Dictators blaring through the deck. Then shoot across the pond to London for a holiday party with Slade and T.Rex. Get back behind the wheel and swerve left into Sweden through Hellacopters and Turbonegro country. Make a quick stop in AC/DC's Aussie garage before bouncing down Detroit's back alleys with The Stooges and MC5 riding shotgun. WHITE DYNOMITE do it all in one night.
Say what you will about the white polyester suits. Throw away the cheap shades. You can even make them bathe and shave. It won't matter. WHITE DYNOMITE have enough punk muscle and rock 'n' roll heart to deliver the dangerous goods loaded, rolling and exploding in a cloud of smoke.