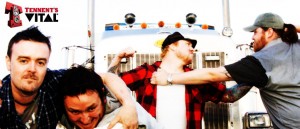 Here's the latest news on Trucker Diablo, straight from the Big Truck's mouth
"We are ecstatic to announce that we have been chosen to play Tennents Vital this year and will be supporting the Foo Fighters.   We would like to thanks our partners and families for all their support and they have been by our side at every twist and turn as it's been an emotional rollercoaster…. have we got it, haven't we got it….arrrgghhh.
Sometimes is hard to balance trucker life and family life but we have a fire inside that makes us wanna go all the way and make Trucker a way of life and our families are a part of that too.  From the heart we are so proud of the band and you our supporters.  Time and time again you give us 100% support and are by our side and we are forever in your debt.  We hope if you are going to the festival you can come down and see us, as we would like to dedicate our performance to you and we believe you played a big part in helping us get here.
This is a great day for Trucker and not just Trucker, but Northern Irish rock.  We crossed a boundary in the northern irish scene that isn't easy to cross and hopefully this brings more focus on the great talent we have in the rock scene.
HORNS UP, KEEP SUPPORTING, BIG TRUCK KEEPS ON ROLLIN'"