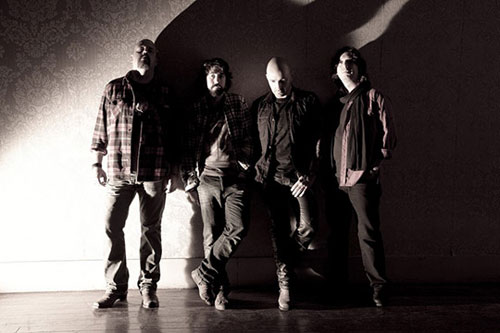 RIPPLE MUSIC is proud to announce the signing of acclaimed, hard-hitting Portugese retro-heavy rockers, The FUZZ DRIVERS to their ever-expanding roster!
Southern Rock from a Portuguese rock band? That would be CORRECT! The Fuzz Drivers are a blasting new sound formed in Lisbon, who are claiming fast fame in Portugal. The talents of Marcelo Vieira (vocals), Sergio "Mad Mag" (guitar), João Lopes (bass) and Duarte Carvalho (drums) packed a powerhouse of sound into their self-titled debut album, and now the band plans to do the same with Ripple Music.
Influences from music of the past four decades rages to the forefront of The Fuzz Drivers sound creating a definite Southern Rock vibe that is then blended through the hard rock cannon of Soundgarden and Led Zeppelin. Plowing the same massively heavy fields of 70's/80's classic hard rock that fueled their self-titled debut, The Fuzz Drivers aim to build upon the crushing success of that first release and take their rocking brand of heaviness to a new level with their Ripple Music debut which will be released world-wide in 2014. The band plans to follow up with a full-scale European tour and hit all the major heavy rock festivals.
Fuzz Drivers commented yesterday upon the new alliance; "Joining the Ripple Music family opens up a whole new exciting chapter for The Fuzz Drivers. Not only we are deeply honoured and humbled to join a roster of amazing bands, but we are thrilled to work with a label with people who love Heavy Rock and pour their hearts into what they do in a way that is rarely seen these days! With all that energy, love and rock'n'roll combined, we know that amazing things are bound to happen!"
For the growing legions of Ripple fans, known as the Waveriders, The Fuzz Drivers will be another must-hear addition to the ranks of bands that already include such heavy rockers as Mos Generator, Devil to Pay, Mothership, Trucker Diablo and Ape Machine. You can bet that the combination of The Fuzz Drivers and Ripple Music will be a combustible mixture!
Read a full review of The Fuzz Drivers' debut album at this location.
Download the album FREE at thefuzzdrivers.com/download-the-fuzz-drivers-debut-album
In September, The Fuzz Drivers will hit the road with King Lizard and The Scams. Dates are as follows:
September 11th – UK – Grimsby, Yardbirds
September 12th – SCO – Edinburgh, Bannerman's
September 13th – UK – Bradford, Gasworks
September 14th – UK – Southampton, ROXX
September 15th – UK – London, The Underworld
September 16th – B – Tongeren, Club Sodom
September 18th – GER – Hamburg, Rock Café St. Pauli
September 19th – GER – Cologne, MTC
September 20th – GER – Hamminkeln, KuBa
"Rock and roll, that's what it's all about on this excellent debut album from Portuguese band The Fuzz Drivers – old-school, rollicking, joyfully played rock n' roll that isn't trying for over-processed, sterile perfection, but rather wants to rock your heart, and rock your soul, and rock your body, and make you feel something (maybe even think something). The Fuzz Drivers succeed on all counts."– Hard Rock Nights
"When Danny Vaughn introduces you to a band, you stand up and take notice. The Fuzz Drivers are a Portuguese based band with an undying love for old school rock n' roll. Think Rival Sons meets The Burning Crows. The album is a blistering success that will get you in the mood for the summer sun as well as the mud soaked fields of the UK festival circuit"– Phil Weller & Edward Laing, Rock Fusion
"Rock and Roll will never die! That is what I think when I hear a band like The Fuzz Drivers for the first time. Classic rock has inspired bands all over the globe, and The Fuzz Drivers are dishing out the best 70s style rock and roll I have ever heard from Portugal." – Hard Rock Hideout
"Welcome to The Fuzz Drivers. They mean business ladies and gentlemen. This debut album proves that these guys could blow some minds." – Rockulus Maximus
The Fuzz Drivers are:
Marcelo (vocals)
Duarte (drums)
João (bass)
Sérgio (guitar)