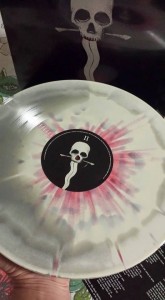 The Sweat Lodge debut album, "Talismana" may be the most eagerly anticipated Ripple release of the year, and the "Spirit Warrior" edition of the vinyl LP is definitely the most talked about version.  
Only 100 of these gorgeous pieces of vinyl were manufactured and they will go fast.  Sale starts Saturday August 8th, at 9 am Eastern Time.  
There will be no repressing, so once they're gone . . .they're gone.