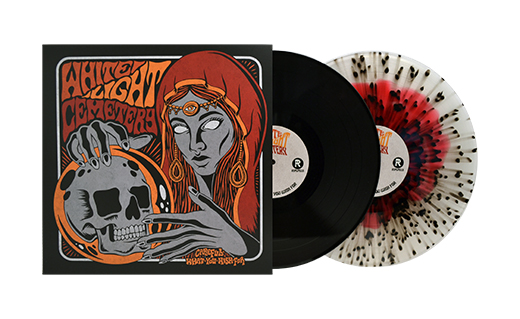 With production work by the legendary Kent Stump of Wo Fat, "Careful What You Wish For," is the Lafayette, Louisiana-based quartet's third official release overall after their 2011 EP debut "Crow Sessions" and its follow-up, their self-titled full length. White Light Cemetery's guitarist/vocalist Shea Bearden, bassist Tara Miller, guitarist Ryan 'Cletus' Robin, and drummer Thomas Colley are the very embodiment of metallic Southern Rock circa 2017 and this fact is verified all throughout "Careful What You Wish For". If you've never heard WLC, it is what would result if one mixed the best elements of Black Oak Arkansas with Pepper Keenan era Corrosion Of Conformity and added a splash of Black Stone Cherry for flavor. Now, who the hell wouldn't want to check that out I ask you?
On sale now!! Limited vinyl limited to 80 copies. www.ripplemusic.bigcartel.com
"White Light Cemetery have released the first great rock record of the year and only tease at what a formidable force they surely must be when witnessed live. Highly Recommended." — Atom Heart Mutha.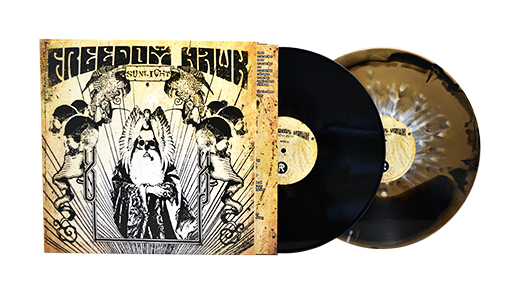 At long last!!! Finally available on vinyl and completely remastered by Chris Goosman, and never sounding better, Freedom Hawk's long out-of-print debut gets the full, grand re-release via Ripple!
Coming to you on January 28th. Dawn Arises Edition: Gold/Black two tone swirl with White splatter limited to only 80 copies. Only 1 test press! Midnight Black and CD.
"If Freedom Hawk were in search of the lost Black Sabbath riff, they've struck gold. Their debut CD, 'Sunlight' is so chock full of lumbering Sabbath-powered riffs and Blue Cheer-pinched guitar licks that it will put cracks in your walls once you press play! Freedom Hawk rock loud and proud and come HIGHLY RECOMMENDED."
– The Atomic Chaser, THE DRP/All Access Magazine