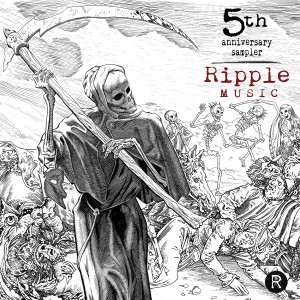 This month marks a very special anniversary for the California-based independent record label Ripple Music, a venture kick started exactly half a decade ago by music-lovers and avid record collectors Todd Severin and John Rancik."From the beginning, we wanted to run Ripple differently than other labels," explains Severin. "The music business was already in the beginnings of a transformation and we wanted to help drive a stake through the heart of the old 'greedy, controlling' record label. Ripple Music has always been a true partnership between label and band, two forces working hard together to release the best heavy music we can."In 2007, with their feet planted firmly in the field of music journalism and a website called The Ripple Effect – set up by both Severin (a former radio DJ) and Rancik (former lead singer of San Diego punk/metal band Blind Justice) – the pair became indebted to all things rock and dedicated to uncovering what they believed at the time was quite simply, "The Best Music You're Not Listening To." Praised by the likes of
Guitar World Magazine
, as one of the top music sites around it wasn't long before their venture grew to incorporate a record label in 2010, after they were approached by legendary proto-metallers JPT Scare Band who wanted to release several previously unheard tracks from their archives.
"I'd gotten to know JPT Scare Band, after writing a review of their compilation Sleeping Sickness. One thing led to another and before I knew it I was holding in my hands a series of fully mastered unreleased recordings by the band with the mandate to 'put them out.' With that not-so-gentle nudge, Ripple Music the record label was born," says Todd.
Since the release of JPT Scare Band's Acid Blues Is The White Man's Burden, and a second reissue released that same year (the 1972 album Let Me In by the cult band Poobah) the label has unearthed music of the highest order by some of the scene's best and brightest in the world of heavy rock, psych, metal, proto-metal and doom. Mos Generator, Mothership, Stubb, Iron Claw, Trucker Diablo, Grifter, White Dynomite, Leaf Hound; this year alone has already seen critically acclaimed releases from Switchblade Jesus, Geezer, Space Probe Taurus and Ape Machine, and with highly anticipated albums on the horizon from DoctoR DooM and Sweat Lodge the label is showing absolutely no signs of slowing.
"Bands retain all rights to their own music and Ripple does it's best to get that music heard around the world," explains Todd. "We've even partnered with other, like-minded labels to co-release certain albums, anything we can do to create awareness and availability for the music. A labor of love to be sure, but a love we'd feel lost without."
To celebrate their anniversary, the label has compiled a special free 5th Anniversary Sampler, downloadable directly from their Bandcamp page for those keen on delving into the label's history, and inspired to hear its future. Visit Ripple Music's Bandcamp page to download the compilation in full herehttps://ripplemusic.bandcamp.com/album/ripple-music-5-year-anniversary-compilation
Track Listing:1. Devil To Pay – 'Ten Lizardmen & One'
2. DoctoR DooM – 'Relax, You're Dead'
3. Mos Generator – 'Lonely One Kenobi'
4. Ape Machine – 'Angry Man'
5. Grifter – 'Princess Leia'
6. Mothership – 'City Lights'
7. Earthen Grave – 'Death Is Another Word'
8. Trucker Diablo – 'Red Light On'
9. CFA – 'Built Up, Knocked Down'
10. Stubb – 'Under A Spell'
11. Volume IV – 'In The Land Of The Blind One-Eyed Man Is King'
12. Geezer – 'Ancient Song'
13. Switchblade Jesus – 'Bastard Son'
14. Space Probe Taurus – 'Scorpio Queen'
15. JPT Scare Band – 'Death Letter'
16. Poobah – 'Bowleen (Radio Edit)'
17. Mighty High – 'Chemical Warpigs'
18. Iron Claw – 'What Love Left'
19. Stone Axe – 'Old Soul'
20. Fen – 'Miracle'
21. Leaf Hound – 'Work My Body'
22. Weed Is Weed – 'Weed Is Weed'
23. Modern Day Moonshine – 'Expiration Date'
24. White Dynomite – 'White Dynomite'
For pictures, promo copies, interview requests and guest list please contact Richard S Jones at 
[email protected]
 / 07854610592
Ripple Music is a California based independent record label founded in 2010 by Todd Severin and John Rancik. The company encompasses a record label, a music publishing business, a marketing, promotion and sales team, and a Distribution for heavy independent bands (Heavy Ripples Distro).Ripple Music on
Web
 | 
Facebook
 | 
Bandcamp
 | 
Youtube
 |
Twitter