Joint project between Ripple Music and H42 Records
Release Date: April 26th, 2015
Presale: March 1st, 2015
 (H42 Records – H42-013)
Limited Edition, hand numbered, 325 copies
75 on silver Vinyl (Die Hard Edition) incl. Bonus Tape with 4 more songs!
(15 of them with Art printed Canvas signed by the artist)
50 on black Vinyl
50 on gold (North America Edition by Ripple Music)
100 on neon yellow Vinyl
100 on clear Vinyl
Ripple Music and H42 Records bring you this spring, a very exceptionally combination of pure American heavy rock and German Fuzz-Rock! Mos Generator meets Daily Thompson! The 7"-single will be released as a limited, hand numbered edition of 375 copies on different colors, with the North American "Gold" Version, limited to 50 copies, being made put out exclusively by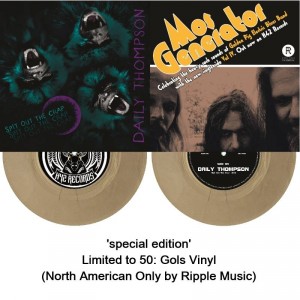 .  For all Die hard Analog lovers H42 Records will offer you a special package (limited to only 75 copies on silver vinyl):
Bonus music cassette with two previously unreleased Mos Generator songs and two Daily Thompson tracks from their recent published debut album! 15 of these packages will come with a Art printed Canvas, housed in a sophisticated BOX. The Amazing artwork for the Die Hard Edition was realized by talented Philipp Karcher (www.philippkarcher.de).
Tracklist 7":
01 Vol. IV (Mos Generator)
02  Spit out the crap (Daily Thompson)
Tracklist Bonus MC for the Die Hard Edition:
01 Vol. IV (Mos Generator)
02 Slow/Moody [DEMO](Mos Generator)
03 Early Mourning [Recorded Live at Freak Valley 2014](Mos Generator)
04 Spit out the Crap (Daily Thompson)
05 Lifetime (Daily Thompson) from their debut  2014
06 Mothman (Daily Thompson) from their debut  2014
Vol. IV is a song written by a band from our area called GOLDEN PIG ELECTRIC BLUES BAND. They were the first band in Mos Generators hometown which play Black Sabbath influenced heavy rock music and in the mid-90s. Their sound lit a fire inside Tony Reed to return playing the kind of music he played in his early bands when he was a teenager.
Mos Generator recorded this song in an odd situation. Shawn has a very "live" sounding living room and they set up an eight track recorder to test how the room would sound in case they wanted to use it for future recording sessions. Mos Generator did 2 live demos that day: Vol. IV and an original song called "Slow/Moody" (This Songs +  'Early Mourning' from their last album – recorded live at Freak Valley Festival May 31st 2014 – are only available on the Die Hard Analog Edition of the 7"-Single!