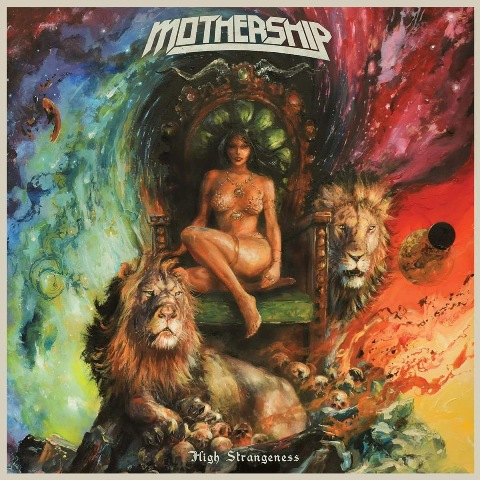 Dallas, Texas heavy rock band MOTHERSHIP will release its new album, High Strangeness, on March 17 via Ripple Music. Recorded at Fire Station Studios in San Marcos, TX and mastered by Tony Reed (Mos Generator / Stone Axe), the album delivers eight strong songs of the band's self-coined "supersonic intergalactic heavy rock". Now, Loudwire premieres the new MOTHERSHIP song, "Crown of Lies", saying, "'Crown of Lies" has a classic hard rock feel yet these Dallas up-and-comers put a modern spin on it as well, and by the time you get to the mid-song jam, you'll be hooked." Hear MOTHERSHIP's "Crown of Lies" at THIS location.
   High Strangeness is the highly anticipated follow-up to MOTHERSHIP's 2014 LP, Mothership II, a record that urged The Obelisk to note that, "Mothership are locked in and they sound like they know it." Artwork for the new album was created by artist Adam Burke (Ruby the Hatchet).
 "'Crown of Lies' really captures the overall vibe of the new songs that came together to create our third album, High Strangeness, which is the next chapter of Mothership," comments bassist-vocalist Kyle Juett. "This song takes you on an epic journey composed of all the elements that make up our sound. It's also one of our favorite new songs to play live."
   MOTHERSHIP's stout sound delivers an amped-up take on '70's heavy rock fury, laced with electrifying psychedelics and space rock elements. The group formed in 2010 when brothers Kyle and Kelley Juett decided to start a new band with their father John Juett on drums. In 2011, Judge Smith would assume drum duties and the trio began to hone its heavy, blues-based sound by performing live at every opportunity. Non-stop road warriors, MOTHERSHIP has risen to headliner status in 2016 and is the go-to opener for D-Town's national touring shows, having shared the stage with Slayer, Alice in Chains, Ghost, Baroness and more in the last twelve months alone. The band was named Dallas' Best Metal Act at the 2016 Dallas Observer Music Awards, earning the honor amidst a strong group of contenders that included True Widow and Pinkish Black. 
Track listing:
1.) High Strangeness
2.) Ride the Sun
3.) Midnight Express
4.) Crown of Lies (Loudwire premiere)
5.) Helter Skelter
6.) Eternal Trip
7.) Wise Man
8.) Speed Dealer
Pre-order High Strangeness via Amazon and iTunes. Check out a teaser clip at THIS location.
MOTHERSHIP (photo: Mike Brooks)
   On February 9, MOTHERSHIP will kick off a short run of U.S. tour dates — dubbed the "Southern Disruption Tour" — where the band will preview songs from High Strangeness in advance of its release. Joining the band on the 11 city run will be Speedealer and Against the Grain. The just-announced live dates are as follows:

MOTHERSHIP tour dates:

February 9       Atlanta, GA                  The Masquerade
February 10     New Orleans, LA        Siberia
February 11     Birmingham, AL          The Nick
February 13     Memphis, TN               Hi Tone
February 14     Little Rock, AR             White Water Tavern *
February 15     Oklahoma City, OK      The Blue Note *
February 16     Austin, TX                     Sidewinder
February 17     San Antonio, TX           Hi-Tones
February 18     Dallas, TX                     Three Links
February 19     Houston, TX                 Fitzgerald's

* = MOTHERSHIP and Against the Grain, no Speedealer.

In additional news, Baltimore's Oliver Brewing Company has just released a limited edition "Crown of Lies" double IPA in tribute to MOTHERSHIP. For more details, visit this location.

Follow MOTHERSHIP on Facebook and Instagram.

   MOTHERSHIP is available to speak with interested media. To chat with the band / request an advance copy of High Strangeness, simply contact Carl Schultz @ ACTION! PR.

"With a name like MOTHERSHIP, you'd expect this group of heshers to hail from NASA's longstanding home base in Houston, not Dallas, Texas…high-energy stoner metal" – BLABBERMOUTH

"Mothership is a band out of time. Its influences range from Black Sabbath to Motörhead to ZZ Top. Its album covers are classic throwbacks; the one for the upcoming LP, High Strangeness, features lions, nebulas, and scantily clad women. Mothership is old-school even as the bandmates look forward." – MIAMI NEW TIMES

   "Mothership come across as the dirty unwanted  offspring of an unholy orgy between Blue Cheer, Budgie, UFO and Hawkwind with a generous dose of Hendrix and Govt Mule thrown in for good measure. Mind you Mothership do it a lot heavier than any of their influences do, and the world is a better place for it." – METAL AS FUCK