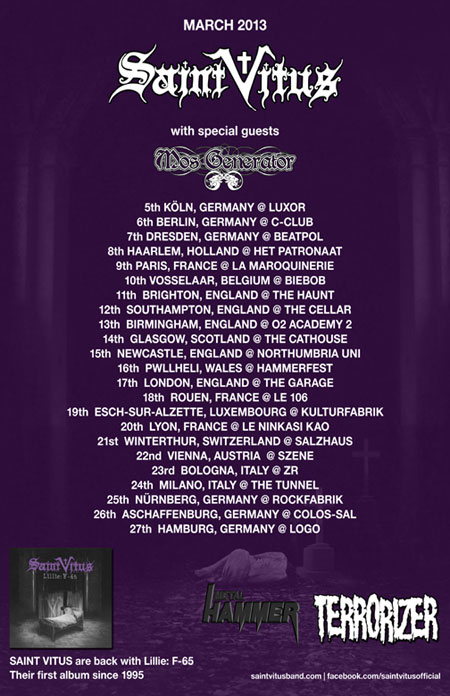 Ripple Music and MOS GENERATOR are pleased to announce the heavy rockin' power trio's support spot on SAINT VITUS' European tour beginning March 5th on Koln, Germany and ending March 27th in Hamburg. Touring in support of October 2012 Ripple Music release Nomads, the band's classy 'n catchy brand of heavy rock is sure to leave audiences with mouths agape and ears ringing.
The introspective and dynamically heavy Nomads marked the triumphant return of MOS GENERATOR after a three year hiatus. Fusing the band's trademark sound of explosive heavy dissonance with equally beautiful melodic passages, the Port Orchard trio is giving Hard Rock fans a 40-minute rock n' roll treat that was five years in the making. Available on CD, vinyl LP, and digital download at www.ripple-music.com. Nomads is unequivocally recommended for fans of Mountain, Black Sabbath, Corrosion of Conformity, Judas Priest, Monster Magnet, Deep Purple, Queens of the Stone Age, Kiss.
Check out the video for "Lonely One Kenobi" off of Nomads at this location.
MOS GENERATOR Live Dates:
*Mos Generator only
2/1 Flights Pub – Everett, WA
2/9 The Breakroom – Bremerton, WA
2/23 Club 21 – Portland, OR
3/1 Chop Suey – Seattle, WA
March 2013 – SAINT VITUS & MOS GENERATOR
3/5 Cologne, Germany @ Underground
3/6 Berlin, Germany @ C-club
3/7 Dresden, Germany @ Beatpol
3/8 Arnhem, Holland @ Willemeen
3/9 Paris, France @ La Maroquinerie
3/10 Vosselaar, Belgium @ Biebob
3/11 Brighton, England @ The Haunt
3/12 Southampton, England @ The Cellar
3/13 Birmingham, England @ O2 Academy 2
3/14 Glasgow, Scotland @ The Cathouse
3/15 Newcastle, England @ Northumbria Uni
3/16 Pwhelli, Wales @ Hammerfest
3/17 London, England @ The Garage
3/18 Rouen, France @ Le 106
3/19 Esch-sur-alzette, Luxembourg @ Kulturfabrik
3/20 Lyon, France @ Le Ninkasi Kao
3/21 Winterthur, Switzerland @ Salzhaus
3/22 Vienna, Austria @ Szene
3/23 Bologna, Italy @ Zr
3/24 Milano, Italy @ The Tunnel
3/25 Nürnberg, Germany @ Rockfabrik
3/26 Aschaffenburg, Germany @ Colos-sal
3/27 Hamburg, Germany @ Logo