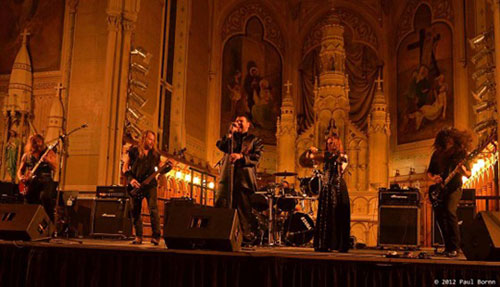 Chicago's EARTHEN GRAVE is thrilled to announce their recent signing to Heavy Rock Leader, Ripple Music for worldwide release of their debut album, Earthen Grave.
The album will be available on CD and double vinyl on July 9th via Ripple Music.
Formed in 2008, EARTHEN GRAVE is a five-piece Chicago metal band that marries the sounds of metal past and future with a sweaty, pummeling live show. EARTHEN GRAVE boasts an undeniable collective metal and musical pedigree. Each member is an accomplished musician and a veteran of the metal scene, including Ron Holzner who was a member of the seminal and seismic doom pioneers TROUBLE – a band widely regarded as one of the most important unsung American metal bands of all time. In addition, EARTHEN GRAVE has that "extra something special" with occasional guest 6th member live and boasting a Full collaboration on the new release with Rachel Barton Pine. Rachel, a world-renowned classical violinist brings her frightening classical chops to a relatively new instrument, the Viper.
Originally released in 2012, EARTHEN GRAVE's self-titled debut features 10 tracks of blistering Doom and Metal that left the critics grasping for superlatives. Terrorizer Magazine hailed "…Earthen Grave sounds old school without being retro, managing to go through every element on which lesser bands usually fail with exquisite grace and solemn subtlety…"
Now to be reissued through Ripple Music, the new edition of the album, produced by Ron Holzner, has been completely remastered with four bonus tracks including the new song, "Death is Another Word…." with new drummer Chris Wozniak (LAIR OF THE MINOTAUR) and the epic live Stargazer (Rainbow) with string section and virtuoso violinist Rachel Barton Pine.
And now the album will finally see a vinyl release! Double gatefold vinyl to be precise, featuring the 10 song remastered debut with the new song "Death is Another Word…." plus three bonus live tracks. One of the live tracks, "Death March Intro – End of my Daze," features TROUBLE guitarist Bruce Franklin. That's a whole new side of vinyl featuring the epic live Stargazer (Rainbow), plus three more live, never-before-released tracks.
EARTHEN GRAVE is dedicated to exploring new possibilities for the genre. As guitarist Jason Muxlow says, "It's not about being the heaviest band or the slowest – it's about having good songs. " second guitarist Tony Spillman and I played doom metal before it was even called that," Ron continues. "And for Jason, the music we pioneered was his influence. We're bringing the strands of the music together – and with the addition of Rachel using the violin as a core component of a metal band, and featuring multi-talented vocalist Mark Weiner we're taking the genre on a new journey."
Catch it all at www.ripple-music.com.
EARTHEN GRAVE has announced the following live dates.
Thursday March 28th Chicago Ridge, Illinois w/ Red Lamb (Dan Spitz X-Anthrax) https://www.facebook.com/events/417402081679144/
Saturday June 22nd Days of The Doomed Fest III Cudahy, Wisconsin https://www.facebook.com/events/418021214950612/
Saturday October 12th Denver Doom Fest III Denver, Colorado w/ The Skull + Evoken https://www.facebook.com/denverdoomfest3
Praise for Earthen Grave
"…Earthen Grave sounds old school without being retro, managing to go through every element on which lesser bands usually fail with exquisite grace and solemn subtlety…"
– Terrorizer
"…the integrity and honesty of the musical endeavour shines through, making this a thought-provoking, melancholic metal creation with some real magic…" – Zero Tolerance
"…a modern doom metal classic that will live beyond a mere best-of-the-year bestowing. 4.5/5" – Metal Underground
"…a unique and refreshing take on the doom metal genre. 8/10" – Doommantia
"…they take the Black Sabbath/Pentagram/Witchfinder General formula to another level by adding in Pine's lovely violin work, which gives these crushing songs an almost Kansas-ish feel to them in spots. 4/5" – Sea of Tranquility
"…one of the year's best doom newcomers." – Blistering
"…one of the most unique doom sounds I have heard in a long time. 9/10"
– This Is Not A Scene