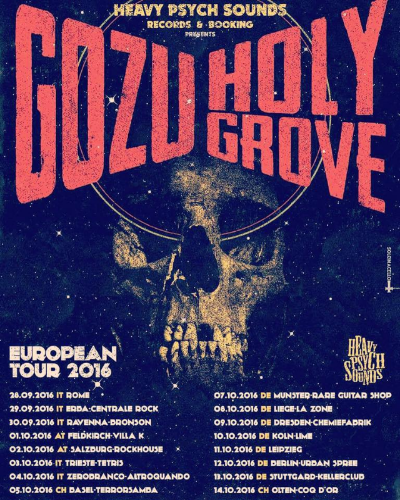 Well the old saying, "rock is my business and business has been good." definitely holds true for Boston 4 piece Gozu.
First signing earlier this year to California's heavy rock label, Ripple Music, then having their new album "Revival" released to overwhelming critical praise and record sales, now the band is getting ready to embark on their two-week European tour.
Hitting the road with retro-heavy rock band Holy Grove, Gozu will tour behind the strength of their Ripple Music release, "Revival" across Europe at these dates:
28.09.2016 IT Rome
29.09.2016 IT Erba-Centrale Rock
30.09.2016 IT Ravenna-Bronson
01.10.2016 AT Feldkirch-Villa K
02.10.2016 AT Salzburg-Rockhouse
03.10.2016 IT Trieste-Tetris
04.10.2016 IT Zerobranco-Altroquando
05.10.2016 CH Basel-Terrorsamba
06.10.2016 DE Mannheim-7er Club
07.10.2016 DE Munster-Rare Guitar Shop
08.10.2016 BE Liege-La Zone
09.10.2016 DE Dresden-Chemiefabrik
10.10.2016 DE Koln-Lime
11.10.2016 DE Leipzig
12.10.2016 DE Berlin-Urban Spree
13.10.2016 DE Stuttgard-KellerClub
14.10.2016 CH Olten-Coq D'or
15.10.2016 CH Frauenfeld-Kaff
"Gozu is extremely excited to get back to Europe and let the rock roll," said Gaffney "So see you all in September as there will truly be a Revival!"
As Metal Hammer says, "Revival introduces Marc Gaffney's smoky, Chris Cornell-esque vocals, the riffs, leads, sonorous bass hooks and the deft skin pounding of ex-Warhorse drummer Mike Hubbard." This will be one of the must see tours of the summer, one fans will look back on for years to come.
The critically-hailed album "Revival" is out now on Ripple Music, and available world-wide via several distribution channels, including MVD Distribution, H'art, Suburban, Borders and Plastichead. Also to be found in the Ripple Music store, www.ripple-music.com and all digital outlets including Ripple Bandcamp and iTunes.