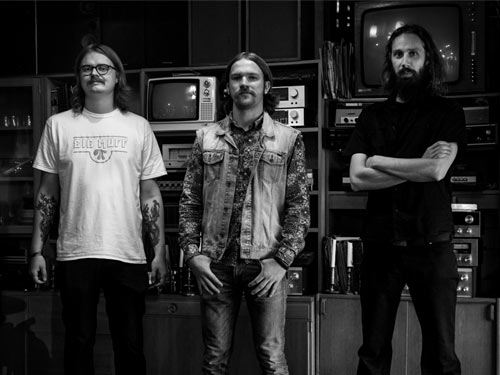 Bio
In October 2015, three fuzzers with a strong sense of D.I.Y attitude a band called Vokonis.
Simon, Jonte and Emil had prior experience playing together as Creedsmen Arise but shed the name to focus on a new direction.
Hailing from the swedish city of rain, they were held indoors by mother nature. Vokonis practiced, cranked to 11 and cried tears of fuzz days on end.
Eventually these hours of worship would turn into songs that became their first album "Olde One Ascending", Which would receive critical acclaim from all corners of the world.
With a focus on volume, fuzz and riffs they've plaved just over 20 shows in their first year as a band and have supported acts such as Skraeckoedlan, Långfinger and Honeymoon Disease.
They are not letting up and are relentless in their quest for heavy tone.
Now they set their sights forward and team up with Ripple Music to deliver their sophomore album, "The Sunken Djinn" for a summer release in 2017." More madness is sure to follow
Members
Guitar & Vocals – Simon
Drums – Emil
Bass – Jonte
Links