Ripple Music present the fifth installment of their 'Turned to Stone' split vinyl series, to be issued on August 5th and featuring the powerful desert riffing from Australian heavy rockers Duneeater and Planet of the 8s. Watch Duneeater's frantic cartoon video with the album's first single "Pleather Sex" now!  
"Ocean and waves, land and the sky. These conjure images of power and resilience that our natural landscape holds, while also reminding us of the fragility of existence. One world, one self, just one time to love."
Ripple Music's split series continues, pairing Australian heavy rockers Duneeater and Planet of the 8s. And while many splits set themselves up as a blank-vs.-blank scenario, like a (usually friendly) competition between the bands involved, the Victoria and Melbourne, respectively, outfits make sure everyone knows they're both playing for Team Riff, setting up the tracklisting between the two so that the bands not only share the release but indeed some of the music that makes it up. And that goes to underline the sheer listenability of 'Turned to Stone Chapter 5'. It is the converted offering a righteous preach to the choir, and each side has a bit of sermon to it as well. If you'd worship an altar of fuzz, they've built one here. (Words by The Obelisk)
About the collaboration, 
Dunneater
 comments: "
When the POT8 fellas pitched their circular flow idea it just made sense… well in truth, it took a bit of explaining but us slower DE fellas caught on eventually! The idea was to try and achieve a smooth transition, circular flow, no start or finish, listening experience where it's up to the listener to choose their own side A or B, from there the music transitions from one side to the other without too big of a vibe change. Hopefully, the listener digs our attempt at the idea and that they catch the vibe we went for.
"
Planet of the 8s adds: "Working with Duneeater for this split was a natural extension of the collaboration with Duneeater's frontman, Diesel Doleman, included on P0T8s' Lagrange Point Vol I EP. The bands also co-headlined a launch show in Melbourne for their respective previous full-length releases. And the connection runs deeper, with Diesel having auditioned for Planet of the 8s back in 2015 when the band was still finding its feet; these guys go a fair way back and the camaraderie is evident in the way this split has been pulled together."
The album will be released on Limited Magma Edition (blue inside bronze color-in-color vinyl), Limited Bedrock Edition (solid bronze vinyl) and digital through Ripple Music.
Duneeater // Planet of the 8s
'Turned To Stone Chapter 5' split album
Out August 5th on Ripple Music
World preorder
 // 
US preorder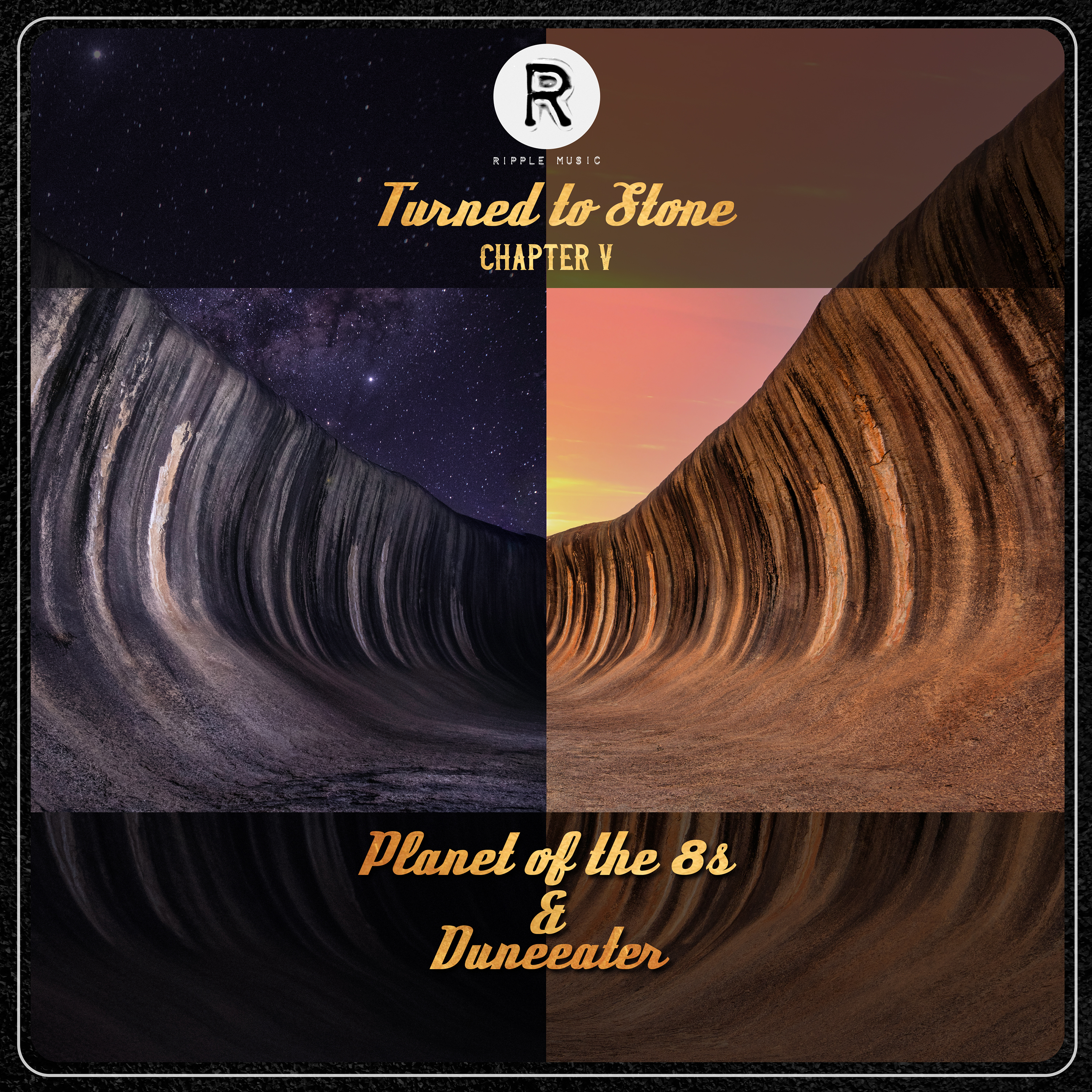 TRACKLIST:
1. Duneeater – Dusk Part 2
2. Duneeater – Twin Voyager
3. Duneeater – Pleather Sex
4. Duneeater – C.O.B.R.A.
5. Duneeater – Devil Dodgers (Dawn Part 1)
6. Planet of the 8s – Dawn Part 2
7. Planet of the 8s – Raised By Night
8. Planet of the 8s – Gravity
9. Planet of the 8s – Dusk Part 1
Duneeater
 (pronounced Dune Eater) are a five-piece band fuelled by a heavy desert vibe and made from genuine Aussie car parts. Their love for V8s, driving riffs and groove is evident in their music. While some might be tempted to roll them up in the stoner genre, it doesn't take long before you realize their riffs weren't just made for spliffs… It's an add fuel, turn key and burn rubber road trip to your nearest outback pub. Duneeater's music was once described as if Kyuss and Fu Manchu jammed out a child That being said, these blokes have managed to find their own sonic space on the desert highway by successfully adding a flare to the Aussie hoon. "I think subconsciously when we're writing, we work off a template where we hope the listener will wanna crack a few beers n do a burnout." If you like your stoner rock laced with speed and where the riff reigns supreme, these five blokes are your new co-pilots.
Facebook
⎪
Bandcamp
⎪
Instagram
⎪
Spotify
Planet of the 8s have evolved over seven years to become one of Australia's foremost desert stoner rock outfits, delivering a visceral live set punctuated by deep grooves, harmonized melodic vocals and a thick wall of captivating riffs and lead guitar. Their sound has continually evolved and while influences like QOTSA and Kyuss are evident in the older material, Planets' have brought progressive and doom elements into their more recent/upcoming releases, with a nod to bands like Tool, Lowrider and Elephant Tree.
Facebook⎪Bandcamp⎪Instagram⎪Spotify